This week, Colombiamoda saw 24 Brazilian brands travel to Medellín to exhibit their products, supported by a government programme in association with Apex Brasil, the country's Trade and Investment Promotion Agency.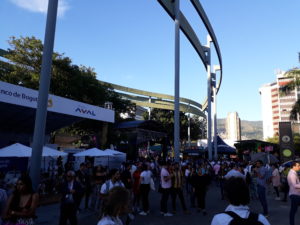 Other than showcasing the catwalk collections of up-and-coming Colombian designers, Colombiamoda is also an exposition opportunity for emerging brands across Latin America to present their products to an array of industry investors and generate new business leads over a three-day period.
Displaying a wide variety of products, from activewear and swimwear to jewellery, Brazil Reports spoke to the budding Brazilian designers who had been given the opportunity to travel almost the entire length of South America to present their collections.
Speaking of his experience getting to know the people of Medellín, Angelo Mafra, co-founder of Brazilian breathable gym wear brand Frant Ness commented, "we really liked the people here, they were really welcoming."
"The fair has been really great for us, we have made good contacts with quite a few people interested in our product. So, next year we would like to come back again with our own bigger stand to allow us to bring a wider range of samples," he added, praising the way Colombiamoda is able to offer smaller brands the opportunity to spread their names within the Latin American fashion sphere.
Speaking to the Brazilian brands at Colombiamoda, a large proportion commented on the gap in the Colombian market for Brazilian designs and general interest in their products. In fact, the demand is particularly significant in the footwear industry.
"In the last five years, Brazilian footwear exports to Colombia have increased by 45%," explained Maria Patricia Freitas, a commercial promotion analyst at the Brazilian Association of Footwear Industries, pointing out that between January and May of this year, Colombians have purchased US $14.4 million worth of Brazilian footwear.
Santa Catarina-born Mafra outlined his reasons for looking beyond Brazilian borders to sell his products; "We try to look abroad because the Brazilian market oscillates a lot. So, we cannot rely on the Brazilian market as it goes up and down all the time."
Sisters Amanda and Alana Machado, both from the Paraná region, were also looking for opportunities at Colombiamoda to expand their jewellery brand Amanda Machado.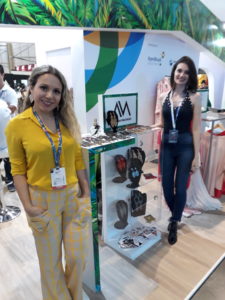 Having abandoned her career as a lawyer eight years ago to dedicate her time to designing fine accessories, founder Amanda told Brazil Reports how she had particularly enjoyed the levels of acceptance that the two sisters had received on their first journey abroad to exhibit their jewellery brand.
"My style is very extravagant, big, eye-catching pieces, many women can identify with it… but I think our product is something different for the market, something that doesn't exist outside of Brazil… so for that reason I think we are going to be very successful here in Colombia," she said.
"Our team is made up of 10 women," explained Amanda. "We started production in a small room in my house and then the business began to grow…We experienced many challenges at the beginning, mostly money-related. But every time, I picked myself up until we managed to stabilise the business."
"Nowadays, I think the brand is going through a particularly positive stage," she said enthusiastically. "I have good providers, good staff, marvellous clients, and I have found a particular style that works."
The Brazilian jewellery brand was lucky enough to have found a unique marketing strategy that involved lending earrings to make-up models who post their work on social media. Thanks to its success, founder Amanda Machado believes the world is now their oyster. "We have sales points in Colombia, Panama, the Dominican Republic, Ecuador, Mexico, Holland, Paraguay and Argentina," she explained.
"Here at the expo we have made several interesting contacts, so now there are going to be various people selling our jewellery in Colombia. In Medellín, there are going to be four," she pointed out, thanking Colombiamoda for the opportunities it had provided her and her sister.
Thanks to Inexmoda, this year 600 brands from across Latin America were given the opportunity to exhibit their products at Colombiamoda. Having received a whopping 27,200 visitors, designers from all over the continent made the most of every opportunity to generate publicity for their brands, acquiring contacts, connections and customers along the way.