Amnesty International have called for a special investigation to oversee the inquiry into the death of human rights activist Marielle Franco and her driver, Anderson Gomes, three months ago.
The renowned NGO, which maintains a following of over 7 million people around the world, made the statement yesterday after criticising the current criminal investigation and arguing that little has been done in recent months to bring justice to the high-profile killing, despite recent developments involving the confession of a witness.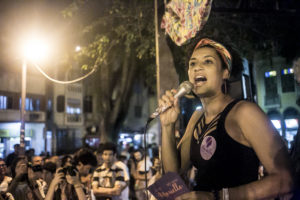 Franco was a prominent politician, feminist and human rights activist in Brazil and was serving as city councillor for Rio De Janeiro at the time of her death. Throughout her early life and subsequent political career, she campaigned for LGBT and women's rights and remained an outspoken critic of the military police brutality in Brazil.
On March 14th she was shot several times in her car after leaving from a round table discussion titled, Jovens Negras Movendo Estruturas (Young Black Women Moving Structures). The attack, which took place in the Rio De Janeiro neighbourhood of Estácio, has since been deemed a deliberate assassination and came alongside media reports that CCTV in the area had been turned off.
The aftermath of Franco's death sparked outrage throughout the country and saw tens of thousands of supporters take to the streets to commemorate the activist, as well as sparking responses from around the world. Her legacy continues to empower Brazil's residents, yet her murder further shed light on the political violence rife throughout Brazil, as well as continuing to raise a question mark over military police corruption.
The refreshed calls for an independent investigation came directly from Jurema Werneck, the Executive Director of Amnesty International Brazil.
"Three months have gone by since Marielle was brutally taken from us, and we are no closer to knowing who killed her and why. This lack of justice is unbearable for her loved ones, those who worked beside her and other human rights defenders who are looking over their shoulder in fear," Werneck stated.
The Executive Director now demands a greater oversight into the case in a bid to tackle organised crime and has criticized how little detail has been released so far.
"Marielle dedicated her life to fighting for the rights of the most marginalized, from black youths living in the favelas to women and LGBTI people. By publicly denouncing violations of those rights, at the hands of the police among others, she played a crucial role in upholding the rule of law. The fact that she has been silenced is a grave threat to all those who speak out against injustice. This crime cannot remain unsolved," states the Amnesty International news page.
The new attempts to place pressure on Brazilian authorities come as a result of a long line of campaigning by Amnesty International to uncover the identities of the individuals who orchestrated her murder. In addition, a petition for justice was also presented to the Inter-American Commission on human rights by Franco's colleague David Miranda and fiancée Mônica Benício, which gained over 20,000 signatures.
Franco's vast support network only appears to be getting louder.