The apocalyptic search for life continues in the Minas Gerais region that was swamped by mud when a dam, owned by Brazilian mining corporation Vale, ruptured on Friday, January 25.

Around midday, as hundreds of workers were chatting over their lunchtime pratos feitos, an avalanche of liquid mining waste began to sweep through the Córrego do Feijão mine, located in the town of Brumadinho.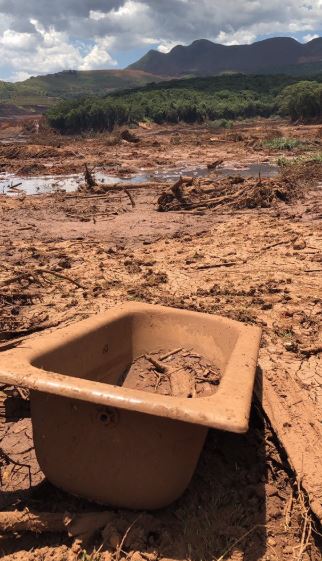 Whilst some ran and others sped off in vehicles, the majority were engulfed by the mud which quickly solidified, burying everything in its path.

Yesterday, February 4, authorities from the Minas Gerais body of military firefighters (CBMMG) released the latest figures in relation to the disaster. So far, 134 people have been confirmed dead and 199 are still reported to be missing.

Working on the rescue operation at the moment are 200 members of the CBMMG, 45 employees from Brazil's National Public Security Force, 110 military firemen from other Brazilian states and a total of 25 volunteers.

Arrests of those responsible for the environmental disaster were made last week and the company has been fined US$66.5 million for its responsibility in the contamination of water and land, eventual damage to human health and affect on biodiversity.
Video footage of Brazil's most recent environmental disaster was released last week, showing the moment the dam ruptured and the tsunami of mud that followed. The force of the 11.7 cubic metres of mud flow was so strong that entire bodies are often no longer being found and instead, limbs and body parts are now being rescued from the wreckage.

According to official statements released by Vale, the company has hired a third party consulting firm to launch a Committee for Support and Recovery and a Committee for Investigation, in order to get to the bottom of the causes of the catastrophe.

Meanwhile, as relatives of those still missing begin to mourn the bodies of their loved ones lost in the tragedy, its impact on the ecosystem and region's biodiversity is beginning to settle in as toxic levels of iron oxide gradually poison rivers and land.