A social media group created for women in protest of right-wing presidential candidate Jair Bolsonaro, who has previously been criticised for making sexist comments, was hacked yesterday, September 16.
The Facebook page, entitled 'Women United Against Bolsonaro,' was created at the end of August and has been gaining momentum over the past few weeks, organising protests all over the country that are due to take place in the final week of September.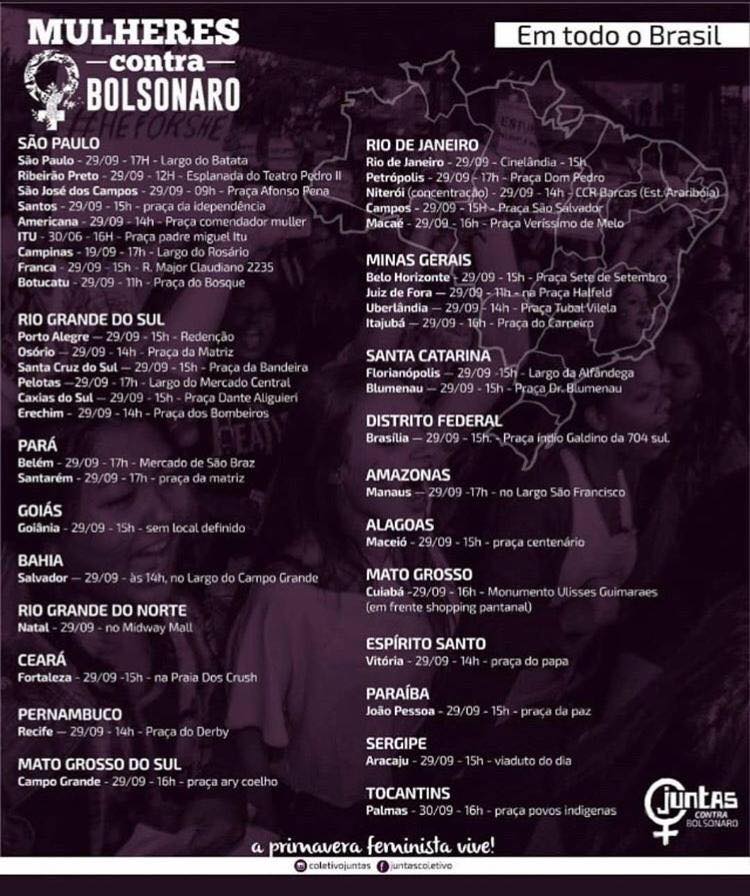 In the run-up to Sunday's hacking, there had also been several threatening posts made on the group, criticising members for being left-wing. The hackers also managed to change the cover photo of the group and block the group administrators from the page.
Before being temporarily shut down to avoid further manipulation, the number of members was registered at just over 2 million. The hack has been described as a "cyber attack," by El Pais Brasil, who pointed out that it occurred around the same time as a campaign for women who support Bolsonaro was circulating on Twitter.   
The current PSL candidate and ex-military officer has been previously criticised for sexist comments made in a speech that took place in April last year, in which Bolsonaro used his own family to articulate his views on women.
"I have five children. Four are men, when it came to the fifth, I was flagging a bit and out came a woman." For this comment, along with others he made about black people, indigenous groups and the LGBTQ community, the politician was charged with hate speech.
The former military officer is also being investigated for a separate case that occurred in 2016, in which he claimed that PT (Workers' Party) member Maria do Rosário "didn't deserve to be raped" because she was "too ugly."
A march against Bolsonaro entitled 'Women Against Bolsonaro,' already has around 250,000 people interested, according to the Facebook event, which has not been affected by the recent cyber attack.
Fellow presidential candidate, Green Party-allied Marina Silva is one of the female politicians to have spoken out about the hacking of the Facebook group, says local newspaper Folha de São Paulo.
"The cyberattack on the #WomenAgainstBolsonaro group is an example of how dictatorships work," she tweeted. "Any authoritarian act is unacceptable, regardless of where it comes from or who it is against. All my solidarity goes out to the group. May this cowardice be investigated and punished."
The attack is currently being investigated by the Bahia Civil Police Force, specifically by a specialised group for crimes carried out via electronic means, reported news outlet G1.
Meanwhile, Bolsonaro – who was victim of a knife attack during a political campaign rally earlier  this month – released his first video statement since the attack yesterday, September 16.
The video, which was originally broadcast through Facebook Live, features a downbeat Bolsonaro who appears to be in pain, speaking from his hospital bed whilst recovering from a second surgery.
Between praising his voters, whom he thanks for their prayers and support, Bolsonaro also speaks about the pending first electoral vote, due to take place on October 7. He also makes a point of criticising opposition party PT, claiming that they will "try to control the media" in the coming weeks. "We are going to lose freedom," he said, accusing imprisoned candidate Lula of attempting to create electoral fraud.
Despite his clear discomfort, an earlier video was released that same day showing the injured presidential candidate take a walk around the corridors of São Paulo's Albert Einstein Hospital – where he is currently being looked after – where he appears more positive, laughing and joking with the hospital staff.
Nonetheless, support for the controversial candidate continues and he remains the most popular in the polls, promising to meet the demands of those who want radical change in their country.