After nearly five hours of vote counting on Sunday, Brazil's Electoral Court announced that current President Jair Bolsonaro and his opponent, former President Luiz Inácio Lula da Silva, will head to a runoff election on October 30 to determine the country's next leader.
Polls closed at 5:00pm GMT-3 in Brazil, and the official results were not delivered until after 9:30pm.
Bolsonaro received just over 43% of the vote while Lula received just over 48%, a couple percentage points shy of what was needed to avoid a runoff election.
Translating the percentages into total votes for each candidate, Lula received more than 57,164,868 votes, while Bolsonaro tallied over 51,050,111 votes in his favor.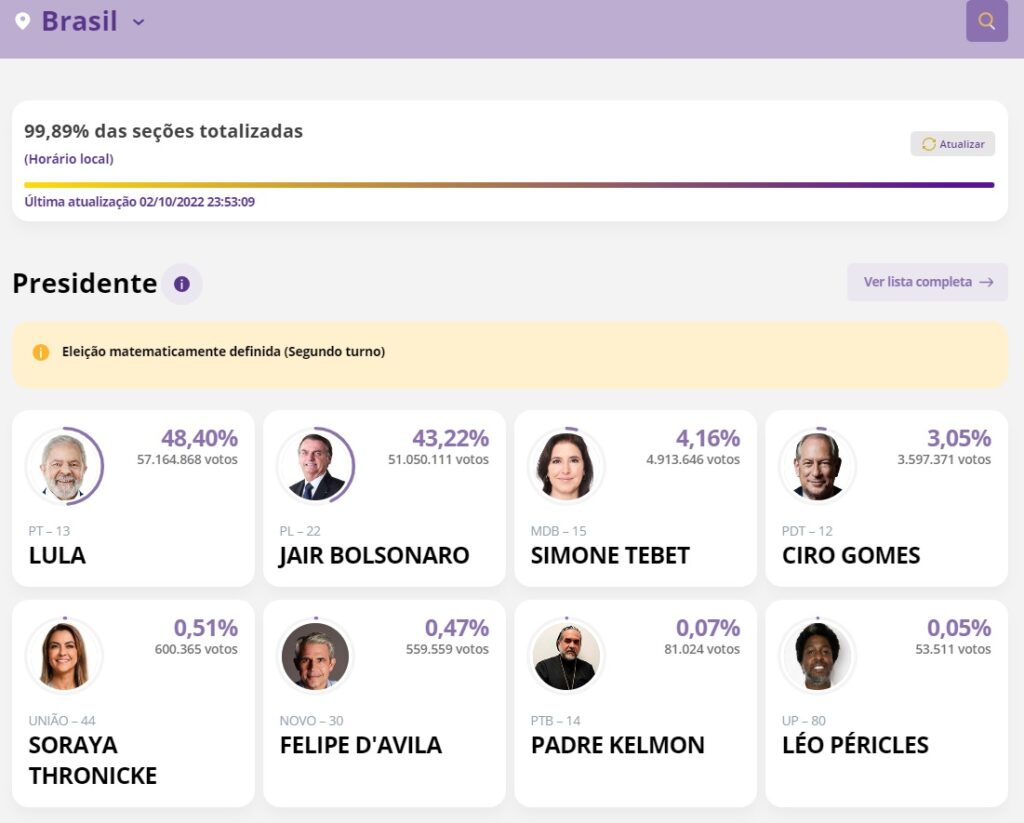 Other candidates received significantly less votes, with the two closest challengers, Senator Simone Tebet and career politician Ciro Gomes receiving around 4% and 3% of the votes respectively.
The outcome of the first round of elections spectacularly contradicts many of the predictions made by the main political research institutes in the country.
One day ago, renowned Brazilian pollster Ipec predicted a victory for Lula over Bolsonaro in the first round by a margin of 51% to 37%. Another trusted pollster, Datafolha Institute, predicted Lula would receive 50% of the votes while Bolsonaro would only receive 36%.
Taking into account the margin of error of two percentage points, the pollsters' predicted outcome for Lula was within the expected range, however, their predictions regarding votes for Brazil's current leader were off the mark.
This Monday, Lula and Bolsonaro will resume campaigning with an eye on the second round of elections, which will take place on October 30.