São Paulo, Brazil – When it was announced back on June 2 that American singer Taylor Swift would be playing a series of concerts in Brazil in November, sisters Júlia and Aline Almeida, aged 16 and 18, of São Paulo recruited family members to help them wait in online queues for tickets, and even opened a bank account at a financial institution promising pre-sale access. 
"I opened the bank account and set up a WhatsApp group with family members who would help us buy tickets. We put in my parents, my older brother, his girlfriend and my boyfriend," Aline told Brazil Reports. In all, the sisters mobilized seven people to help them buy tickets. "Everyone was accessing the site via phone, notebook, tablet — all possible devices," she said. 
Despite their ticket-buying task force, the sisters were unable to snag any passes to the first three shows announced by Swift's camp. On June 12, due to extremely high demand, concert promoters announced another three show dates in Brazil — the sisters still had a chance!
Soon after the announcement, their brother's wife was able to log in and access the ticket sale. "There were 11,000 people in front of her. We were apprehensive, but when she entered the site, there were still tickets for the lower bleachers at one of the shows in São Paulo. We bought them right away," said Aline, extremely happy and relieved.
The Almeida sisters were lucky. Many Brazilian "Swifties," as the pop singer's legion of devoted fans are known, were unable to find tickets at affordable prices, due in large part to ticket scalpers who reportedly resorted to threats and intimidation to secure tickets and resell them at a significant markup.
The episode has caused outrage across Brazil, and even spurred bills in Congress to help protect citizens against abusive scalpers.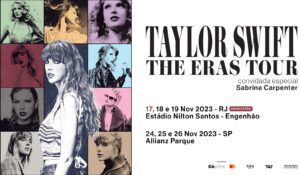 Scalpers and their threats
Before tickets went on sale, fans camped out for days in front stadiums in São Paulo and Rio de Janeiro to buy passes. Even before the general sale started, fans started denouncing the presence of scalpers — people who resell tickets at higher prices, usually without permission from the event organizers.
Videos shared online showed scalpers cutting the queue and threatening Taylor Swift fans — most of them teenagers. Newspaper Estadão reported that a fan had received death threats from scalpers. 
"There were threats from large groups of [scalpers]. They came to the queue, said they wanted to go ahead and said that if we didn't leave the place would be the last day of our lives," Luis Felipe Pires, a nursing student, told Estadão.
Gabriela Ferreira de Souza, a journalist who was also interviewed by Estadão, said she saw scalpers arguing with fans. "They said they would mark the face of whoever was complaining about them jumping in line and they would beat and steal the ticket from the person who bought it," said Souza.
On the day the general sale began, many of the scalpers managed to skip the queue and buy tickets. On the same day, tickets appeared on online resale sites, marked up as much as 10 times the official price.
Via social media, fans began to pressure authorities to step in.
When ticket sales were announced for the three additional shows, Brazilian police and consumer protection watchdogs stepped up their operations, arresting 32 people in São Paulo on June 19. On June 22, another operation was carried out in São Paulo, which resulted in eight arrests and the seizure of R$9,000 (USD $1,800) in cash.
However, prosecutors soon ran into a snag. Under Brazilian law, scalping tickets is illegal under the so-called "Statute of Fans," which is a set of legislation that regulates reselling tickets to sporting events, but not concerts.
The 'Taylor Swift bills'
Fan outrage surrounding the scalpers caught the attention of Brazilian lawmakers. Two deputies in Brazil's lower house have since put forward proposals in the Chamber of Deputies to combat the illegal resale of concert tickets.
The goal of the so-called "Taylor Swift bills" is to provide strong punishment, including fines and even prison time, to those who resell tickets at higher prices than what they sell for at the box office.
The first proposed bill, presented by Deputy Simone Marquetto, includes a one to four-year prison sentence and a fine of one hundred times the ticket value for anyone who scalps concert tickets. The proposal calls scalping a "crime against the popular economy."
According to Marquetto, the goal is to protect consumers from the abusive behavior scalpers. "At nights of concerts, decisive matches and Carnival events, ticket [scalpers] and their frauds mark the outside of stadiums where the events are most sought after by the public," she said.
A second Swift-inspired bill, presented by deputy Pedro Aihara, provided for a shorter jail sentence — six months to two years for the resale of physical tickets — but also included language that would make it a crime to resell tickets online, including a one to three year prison sentence and a fine of up to one hundred times the value of the ticket for digital scalping.
"The sale of tickets at exorbitant prices is a serious disrespect to the principles of popular economy, which seeks to promote equity and accessibility of services to the general population," said Aihara. "That's why it is imperative to create legal mechanisms that curb such practices and protect the interests of consumers."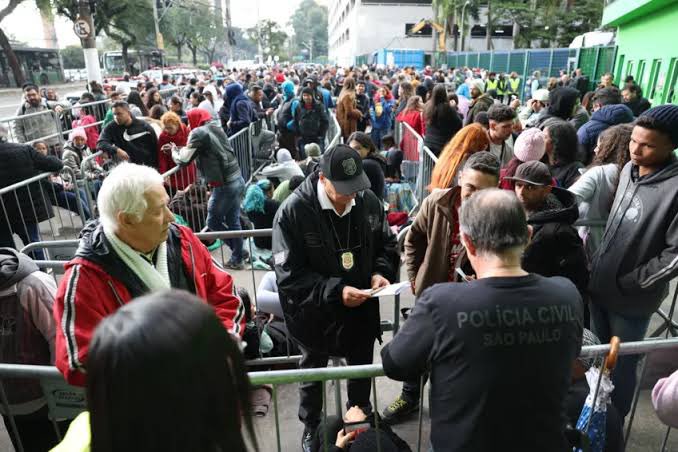 The bills are being discussed in the Chamber of Deputies and there is still no date set for a vote, however, legislators have formally requested to prioritize the debates of these bills.
In addition to the new proposed legislation, Deputy Erika Hilton asked the Public Prosecutor's Office to investigate TF4, the organizer of Taylor Swift's concerts in Brazil, for allegedly not having effective mechanisms to prevent the purchase of tickets by scalpers.
Consumer protection agencies in São Paulo and Rio de Janeiro also received complaints from the singer's fans and are investigating TF4's actions. If omission or negligence is proven, the company could be fined.
Brazil, of course, isn't the only country where ticket issues arose from Taylor Swift concerts. In the United States, a Taylor Swift ticket debacle led to a Senate investigation of ticket giant Ticketmaster.